La chatterie du Clos d'Artémis était présent à l'exposition féline de Sartrouville du 18 Mars 2017 !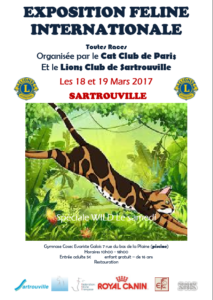 Très appréciée du Jury, Maya de Coon's of the Gang a obtenu l'EXC dans la catégorie des Maine Coon 8/10 mois !
Lactée du Bois des Loups est restée à la maison pour se préparer avant son rendez-vous amoureux imminent avec Loomy, chuuut….